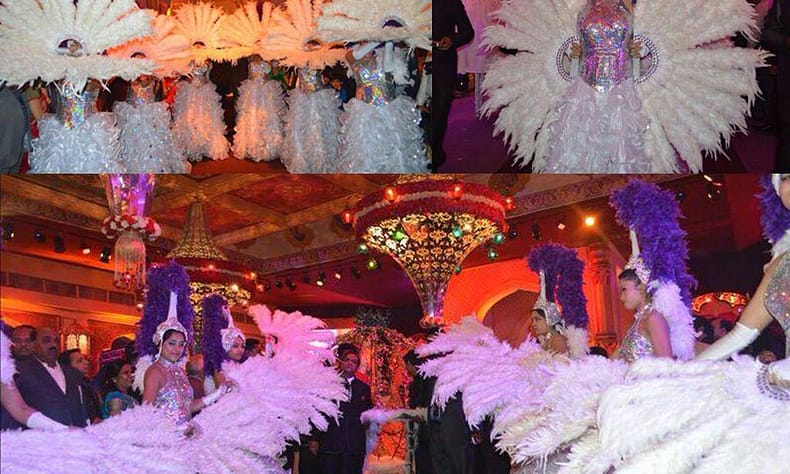 Goa is one such destination in the world that is famous for breathtaking sunsets, a laid-back island ambiance, and cheerful Goan-style parties complete with food, music, and dancing. It is both memorable and beautiful to have a destination wedding in Goa. It is essential to hire the best wedding planners to create a beautiful destination wedding in Goa. Pearl Event is among the top 10 wedding planner in India, specializing in creating beautiful destination weddings.
Some of the most beautiful places in Goa for hosting the perfect Goa wedding :
1. The Perfect Beach Wedding in Goa with a silver-white theme :
The beach resorts in South Goa are blissful for those who want a simple and fairy-tale wedding. Wedding locations typically include beach views, and unlike many Goan beaches, South Goa maintains its isolated reputation, ensuring that you will enjoy uninterrupted seaside scenic views. These resorts are ideal for a simple beach wedding, with only the traditional silver and white décor and lighting necessary. Agonda is one such beautiful place for this.
2. Goa Wedding with a Hippie Theme :
You can't avoid becoming a hippy in Goa. At least on certain days. Calangute Beach is the place to go if you want a lively, fun-filled wedding celebration. This beach, which is lined with palm trees and hidden by a hillside, as well as its resorts and some of Goa's most noteworthy nightlife places will make your hippy wedding even cooler. Many people like to hire Russian artists for events for a large Indian destination wedding in Goa.
3. A backwater wedding in Goa :
If beating the beaches during your Goa wedding is on your mind, then Bardez is the place to go. All of your comfort needs will be met at a variety of resorts in Bardez, particularly Olaulim, while the striking tranquility of the backwaters will settle your worries before your big day.
4. A Goanese wedding in Goa :
If a couple wants to keep faithful to Goa's Konkani vibe then Mapusa is the place to take your vows. Mapusa, free of commercial encroachment, remains true to its traditions, with a neighborhood brimming with churches, cottages, art galleries, and other attractions. An outstanding collection of colonial bungalows and villas serve well as wedding venues in Goa that remain true to the state's history.
5. In Goa, an Old-World Wedding with a Touch of Luxury :
If you want your Goan wedding to be the right combination of luxury and Goa's old-world charm, look no farther than Panjim. Panjim will keep your guests occupied as well as being close to some of the most famous churches, restaurants, and architectural masterpieces.
6. A Solitary Wedding in Goa :
A ceremony at Cavelossim is ideal for those who have a guest list that barely reaches double digits. Most visitors avoid its white-sand beaches, so you and your partner can be the only ones there.
Here are some pointers to make your Goa wedding as simple and stress-free as possible:
1. Choosing the perfect location in Goa : Choosing the ideal wedding location is the most important step in organizing a vacation wedding in Goa. The first step in organizing a stress-free wedding is to choose a wedding location that matches your aesthetic and has enough rooms to suit your guest list. Check to see whether the hotel has a variety of settings to pick from, such as a poolside and beachside venue.
2. Weather Consideration : Goa, like any tropical destination, has certain pleasant months and others to avoid. The optimum time to marry in Goa is between the end of October and the beginning of March. The evenings and nights are comfortable throughout these months, and the humidity is moderate. In Goa, the monsoon season runs from June to September, and beach weddings are not permitted during this period. April, May, and October are the hottest and most humid months of the year. In these months, a beach wedding in the evening is doable.
3. Setting a Budget: It is important to set a budget before choosing your favorite flowers, colors, and spending hours pinning your favorite details. This is most likely the finest and most important thing you can do. Your wedding budget will function as a tracking mechanism for all wedding-related expenses, including minor vendors, photography, and make-up. This will allow you to keep track of your spending as well as choose which goods you want to spend more on, which you want to spend less on, and which you may not need. Make sure your wedding planner is aware of your budget from the start, as they will be able to offer you good value bargains and ideas that fit within your budget.
4. Hiring a wedding planner : Without local planning guidance, I believe it is nearly difficult to organize a destination wedding in Goa. It's important to hire a Destination Wedding Planner in Goa with whom you feel at ease and who you can trust. People often believe that wedding planners are prohibitively expensive and that they are only necessary for large weddings. As they provide suppliers orders throughout the year and are aware of the current market rates, a skilled planner may assist cut vendor pricing.
A skilled wedding planner will provide you with better and more inventive ideas. The planner will assist you in keeping track of your budget as well as your planning process and timeline. They guide in choosing the best destination among beautiful locations in Goa to host a perfect destination wedding. Pearl Events is one of the best Wedding Planner in India who beautifully organizes grand destination weddings.